all the material possessions i want for today.
about last month, maybe longer ago, i bought a really similar pair of boots to these balenciagas.

i am so happy about this purchase. i got them at aldo, where i now work (before i got the job!) for $80. its a good thing i found the similar style because the second i saw those boots for balenciaga in 2008, omg i was in love.
in 2006, i saw the booties (which i have posted earlier) and i just died of lust for them.
wanna see em on marykate and ashley olsen? okiee~!!!



so check out this comme des garcons jacket i wanta buy off ebay for like fifty bucks!
i dont know if its for men or women, its probably androgynous so whatevv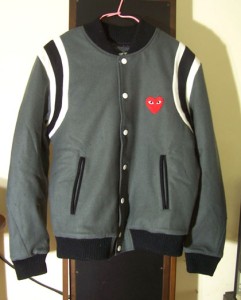 i might bid on this balenciaga lightweight jacket (can you tell im obsessed?)
its at 10 dollars right now :O

on a further note, rick owens is my other favorite designer for the time being.
balmains cool, rodarte is cool, vena cava's kickin..but rick owens is just above and beyond. the outlook i have on design is just so in tune with his stuff. we are on the same page for sure. i mean, okay, hes goth. theres nothing wrong with that, i love that.
look at this jacket, i wish i could afford it. so lush. anybody want it? ebay for $1700
perfecto!!